via: crypticrock.com
Morrissey has always been something of an enigma. The former Smiths frontman has lived a life shrouded in mystery—and lately in controversy, too. While Morrissey is well-known for the misery-soaked music he gifted to his dedicated fanbase, few seem to consider his time as Steven, a young man growing up in Thatcher's England in the late '70s and '80s. England Is Mine, written and directed by Academy Award and BAFTA nominee Mark Gill (The Voorman Problem 2011, Full Time 2013) explores a young Morrissey as he navigates an oppressive life in Manchester before he became the man people know and love (or hate) today.
Released in the US on VOD/DVD December 12th, and on Blu-ray the 19th through Cleopatra Entertainment, England is Mine comes at an interesting time in Morrissey history. Lately, he has made some especially unsavory comments. Add those to the pile of unfortunate things to come out of his mouth either on stage or in interviews, and fans will likely be glad to have this film to remember a time when the worst thing their hero was doing was writing scathing letters to NME in his cramped Manchester bedroom.
Thankfully, Jack Lowden's (Dunkirk 2016, A United Kingdom 2016) portrayal of young Steven is excellent. Despite the film's dull, industrial setting, Lowden is shining. As the film progresses, he gradually evolves from a gangly, unrecognizable teen into the man fans will recognize. The transition manages to be fascinating to watch, though the events that take place may not seem thrilling at first glance.
However, do not expect England Is Mine to be a film about The Smiths. Make no mistake that this is a film about young Morrissey. Astute Smiths fans will catch multiple lyrical references peppered throughout the dialogue, and there are several delightfully tense scenes featuring a young Johnny Marr (Laurie Kynaston: Undercliffe 2017, Cradle to Grave 2015), but those expecting to see the full origin of The Smiths should look elsewhere. Lowden does not sing often, but when he does, it is clearly his own voice and not some false-sounding voice over. He manages to get Morrissey's croon down pat without coming across as forced.
The film begins with a seventeen-year-old Steven, a shy loner too clever for his own good. Too apprehensive to take part in Manchester's growing music scene himself, young Steven takes to his typewriter and fires off acrimonious reviews to music publications. When one of these reviews catches the eye of Linder Sterling (Jessica Brown Findlay: Winter's Tale 2014, Victor Frankenstein 2015), she convinces him to get a band together and book a real gig.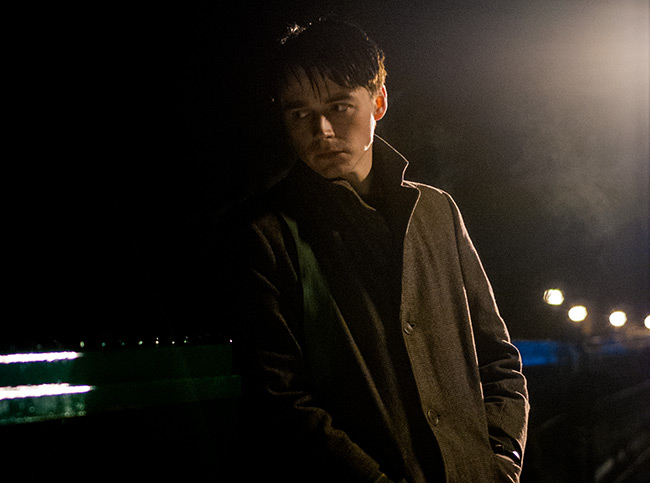 After one performance, Steven and his band get a call from a music manager, but unfortunately they only want bandmate Billy Duffy (Adam Lawrence in his debut film appearance). Young Steven's dreams are crushed, and he must navigate a spiraling depression as he struggles to become the artist he dreams of being.
Truly, if nothing else, England Is Mine is lovingly crafted by Gill and artfully portrayed by Lowden. It gradually begins to feel as though Lowden truly embodies the man himself by emulating his mannerisms and ways of speaking.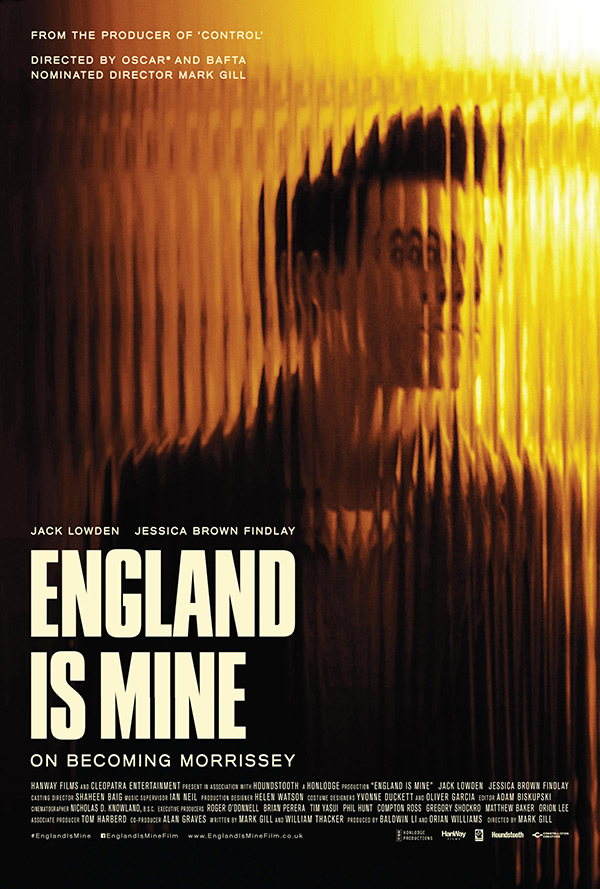 Backed by a stellar cast including Jessica Brown Findlay as the Artist Linder Sterling, this film manages to take a deep-dive not only into Morrissey's life, but also the burgeoning life of Manchester's Punk scene. Small details like a ticket to the Sex Pistols' legendary "gig that changed the world" in Manchester on June 4, 1976 tacked to a bedroom wall and Steven's first meeting with Marr at a Manchester Patti Smith gig are things that fans with sharp eyes will enjoy.
Packing in these details and references makes the film that much more enjoyable. For these reasons, CrypticRock gives England is Mine 4.5 out of 5 stars.