Via: variety.com
By Jessica Kiang
Goofy and gross, this well-performed indie about love and compulsive hair-eating marks a promising feature debut for director Xander Robin.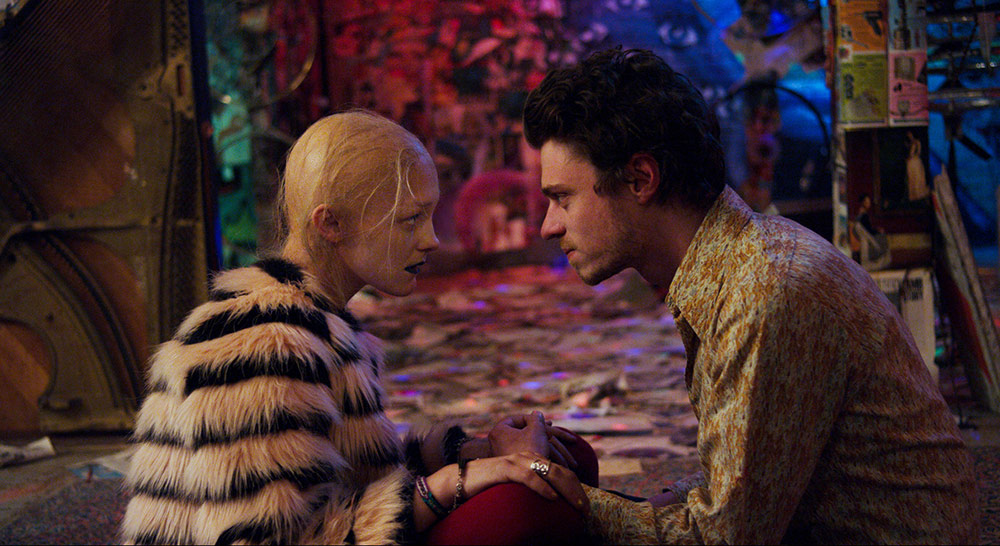 Director: Xander Robin With: Michael Patrick Nicholson, Chelsea Lopez, Michael Godere.
1 hour 17 minutes
Official Site: http://www.imdb.com/title/tt5325492/
---
The phrase ​"That which nourishes me also destroys me," in its Latin formulation ("Quod me nutrit me destruit") originates from an Elizabethan-era portrait purportedly of playwright Christopher Marlowe. But it's exponentially more famous for being tattooed below Angelina Jolie's navel — and if Xander Robin's stylishly screwed-up feature debut "Are We Not Cats" were also to get its lower abdomen inked, that motto would be the obvious choice. Anya (Chelsea Lopez), the heroine of the tale, is a troubled young woman, whose wonky, dusky-pink wig conceals a wispily bald pate: She eats her own hair. The hangdog hero, Eli (the appealingly Brad Dourif-esque Michael Patrick Nicholson) dabbles in trichophagia himself, occasionally nibbling on his patchy beard, though his head hair couldn't be more tousled and full if he were the brooding star of a black-and-white French film. Along with "Phantom Thread" and "Fifty Shades Freed," "Cats," which is finally getting a U.S. release after premiering two years ago, proves that this is quite the cinematic moment for relationships in which the line between love and mutually reinforcing dysfunction is a blurry, furry one.
Morphing from road movie to quirky love story and briefly even flirting with glistening, Cronenbergian body horror, the film starts as an almost-too-standard indie. Eli is directionless and broke. A rash covering his back is only getting angrier and more pus-filled. He stops by his ex-girlfriend's apartment in hopes of a booty call while working his garbage route, and she definitively dumps him. He's soon dumped from his job, too, right next to an actual dump truck. Then his chirpily charming Russian-emigre parents announce they're decamping to Arizona. But they leave him a truck, which can be both a place to live and a new source of income. Eli may be short on entrepreneurial spirit, but many shots of him, undernourished and grappling with furniture removal on snowy stoops, suggest he's vaguely trying.
One casual gig leads to a unexpected trip to a small town with the feckless Kyle (Michael Godere), who bonds with Eli over slugs of antifreeze and introduces him to his girlfriend, Anya. Eli is instantly smitten, even when he awakens from a drunken party to the sight (and sickly sound) of her covertly masticating her few remaining strands. It's not just that Anya eats hair, it's that she apparently eats only hair. And unlike the felines of the title, she can neither digest the hair nor cough it up. It's making her very sick.
Kooky details abound: the Rube Goldbergian lighting machine of Anya's design; her trashy silver boots; the blue lipstick that makes her look like she's constantly got a mouth full of poison berries. There's a mini-piano involved, not to mention an old-school electric organ accessorized with colored bulbs. Robin's film is one ukulele away from unforgivably hipsterishness. Yet there's a lightness of touch, especially in Matt Clegg's unusually slinky photography and the terrific, unexpectedly soul-heavy soundtrack that mostly saves it from becoming too precious. And though this is a slightly unreal world in which no one looks at their iPhones or uses a computer (the gory, medically dubious climax is enacted without so much as a YouTube tutorial for guidance) — the sweet earnestness of the two leads makes their characters real.
Lopez and Nicholson also appeared in Robin's short film of the same name and so these roles hang on them comfortably, even at their most grotesque. Lopez invests Anya's attitude-and-artifice exterior with something shy and raw and sad, even if her purpose is ultimately to be rescued, like the inside-out Rapunzel she is. And Nicholson registers a low-key breakout for his rangy, rumpled riff on the lovestruck, questing Prince. He doesn't write a single line but exudes the soulful, scuzzy romance of a beat poet.
There's nothing much to say about love that hasn't already been said, filmed, sung or embroidered on a sampler. But where many romances include a tacit lesson about accepting the loved one for who they are, Robin isn't afraid to bloody his hands with the murkier, slimier implications of that platitude. Where does accepting end and enabling begin? Is it romantic to abet someone's pathology if it's fundamentally self-destructive, or is that simply reckless? These are ticklish, peculiar questions about unhealthily co-dependent amours fou, but ultimately "Are We Not Cats" is a little too sweet-natured to do more than bat them around a bit, before curling up and purring to its gently bonkers conclusion, which nets out at "Love me, love my life-threatening compulsive disorder."
Watch The Trailer

Film Review: 'Are We Not Cats'
Reviewed online, Berlin, Feb. 4, 2018. Running Time: 77 MIN.
PRODUCTION: A Cleopatra Entertainment release of an F and Greatest Planet on Earth production. (International Sales: TriCoast, Los Angeles.) Producers: Joshua Sobel, Thelonious Brooks, Xander Robin. Executive Producer: Tom Davia. Co-Producers: Tatiana Bears, Judith C. Posey, Garret H. Morris.
CREW: Director, Screenplay: Xander Robin. Camera (color): Matt Clegg. Editors: Dustin Waldman, Robin. Music: Garret Morris, DJ Burn One.
WITH: Michael Patrick Nicholson, Chelsea Lopez, Michael Godere.Dean Houlterman, Charles Gould, Adeline Thery.