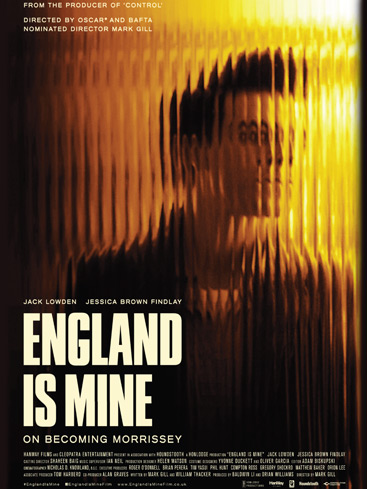 Director: Mark Gill
Producer: Baldwin Li and Orian Williams
Cast: Jack Lowden, Jessica Findlay
Genre: Biopic
Release Date: 8/25/17
England is Mine
Steven, better known to most as Morrissey, frontman of ​iconic band The Smiths, is a restless young man struggling to escape his working class roots. He dreams of being in a band, writing music and flying clear of the daily grind.
"Perfectly captures the enigma behind indie's greatest icon, Morrissey" – Shortlist
One evening lurking in the shadows at a gig he meets Linder: artistic​, literate, intelligent, she is all he sees in himself. They fast become confidants, his courage and sense of purpose increasing day by day. Suddenly a chance encounter with guitarist Billy leads to a first gig. But Billy and Linder cannot support Steven forever, each making their own escape to the bright lights of London. Can Steven find his own path and find an England of his own?
DIrector Gill, who also wrote the screenplay (with William Thacker), burst onto the international film scene with his 2011 short film, "The Voorman Problem," which earned him an Academy Award-nomination for Best Live Action short, as well as a BAFTA nomination. Lowden, whose stage work has already earned him the UK's highest honor, the Olivier Award, will soon be seen in Christopher Nolan's eagerly anticipated "Dunkirk," and also numbers among his credits such films as "A United Kigdom" and "'71." Since capturing, and breaking, hearts as Lady Sybil in the smash success "Downton Abbey," Brown Findlay has also been seen in "Winter's Tale," "The Riot Club" and "Victor Frankenstein." Baldwin Li, Gill's producer and fellow "Voorman" Oscar-nominee, produced ENGLAND IS MINE along with Orian Williams, producer of Anton Corbijn's "Control," the multi-award-winning biopic of Ian Curtis and the band Joy Division.