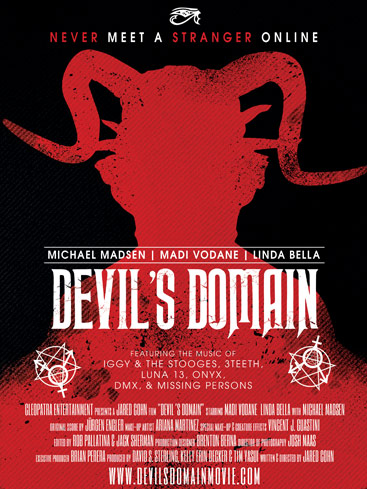 Director : Jared Cohn
Producer : Brian Perera
Cast : Michael Madsen, Madi Vodane, Linda Bella
Genre : Horror
Release Date : May 19th, 2017
Devil's Domain
Devil's Domain tells the story of Lisa Pomson, a troubled, social media obsessed teen, conflicted with her sexuality and her parents misunderstanding of her.
When Lisa gets secretly filmed binging, purging, and masterbating the video goes viral and she suffers extreme cyber-bullying.
Suicidal, and on the brink of insanity, a beautiful, mysterious stranger (the Devil) strikes up an online relationship with her. They grow close and meet and the stranger offers to help in exchange for a favor.
As part of her helping Lisa, she gets rid of the bullies. But a big twist of events start to happen in Lisa's world and she regrets the agreement she has just made with the devil.