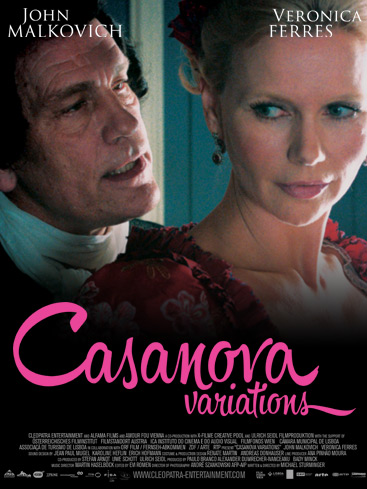 Director: Michael Sturminger
Written By: Michael Sturminger (screenplay), Markus Schleinzer
Produced By:
Cast: John Malkovich, Veronica Ferres, Florian Boesch
Genre : Drama
Release Date : February 6, 2018
Casanova Variations
Casanova (John Malkovich, Dangerous Liaisons, Burn After Reading) has accepted the Duke of Waldstein's proposal; he's the librarian of the Castle of Dux, in Bohemia. At the end of his life, he begins to write his memoirs. This is where he receives Elisa von der Recke's (Veronica Ferres, Salt And Fire, Pay The Ghost) visit, who is very interested in his manuscript. Casanova doesn't recognize in the features of this charming woman, a girl he had seduced in the past and who had wanted to die for him. For the famous libertine, the arrival of Elisa is both stimulating, the opportunity to start a new challenge (to conquer her) and threatening (he questions himself about the motivation of the traveler).
Is she there to be entrusted with the text and publish it? Is she driven by curiosity, concerned about what he could have delivered about their affair? Does she intend to read the coveted text to be inspired to write an incriminating biography herself as she did for Cagliostro in a very successful book? Elisa raises in her host both a burst of carefree life and the lucid weariness of a tired body that fears death.