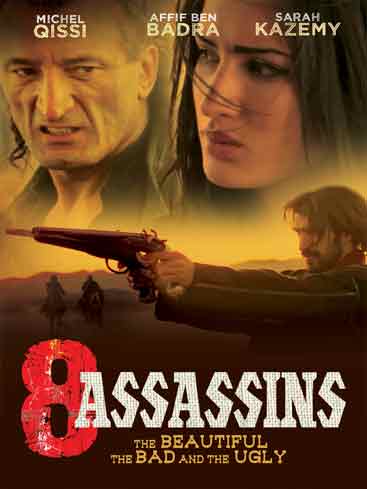 Director: Said C. Naciri
Producer: Mamoun Naciri
Cast : Michel Qissi, Affif Ben Badra, Sarah Kazemy
Genre: Drama, Action
Release Date: August 28-31, 2017
Laemmle's Music Hall 3
9036 Wilshire Blvd, Beverly Hills, CA 90211
8 Assassins
8 Assassins is a modern day fairy tale that follows the journey of Amir, an anti-social thief, who makes a living by robbing banks.
Following one bank robbery gone horribly wrong, Amir steals his associates' loot and flees to the desert, where he takes refuge in the remote village of the tyrannical Sharkan where to his dismay he's shunned and immediately sent to the jails of Sharkan's Kasbah. It's here, where he meets the wise and cunning Shahin, head of the oldest and most prestigious desert tribes.
This strange encounter in the middle of nowhere between Amir – the outlaw with no virtue nor hopes of aspiring to be anything but a criminal – and the revered tribal head Shahin, change both of their lives forever, revealing the true heroic nature hibernating within Amir that's unleashed with a vengeance in the climactic and explosive ending!
Soundtrack
The official soundtrack to the thrilling action heist film set in the Middle East!
Features an incredibly diverse roster of artists including folk icon Judy Collins, space rock legends Hawkwind, original Iron Maiden vocalist Paul Dianno, German krautrock pioneers Faust, Hawkwind co-founder Nik Turner, deathrockers Christian Death and many more!
Track Listing:
DISC 1
1. Hedersleben – Gulf Of Lost Souls
2. Jürgen Engler – 8 Assassins (Score)
3. Nik Turner – Coming Of The Maya feat Simon House
4. Klute – No Man's Land
5. Alan Davey – Angel Down feat. Simon House
6. Hawkwind – Hassan i Sabbah
7. Black Plastic – Sertraline
8. Onyx – Do U Bac Down
9. The Wake – Nazarene
10. Faust – Parasiten
DISC 2
1. Judy Collins & Ari Hest – Run
2. Philippe Besombes – Chocolate Cream
3. Brainticket – Radagacuca
4. The Coffin Daggers – Instigator
5. Yellowman – The Happiness Of One
6. Space Temple – Acid Journey feat. Wayne Kramer
7. Jürgen Engler – Assassin Fuzz (Score)
8. Damon Edge – I'm A Gentleman
9. Spahn Ranch – Heretic's Fork
10. Paul Dianno – War Machine
11. Larry Donn – Honey Bun
12. Blackburner vs. DMX – We Gonna Tear Shit Up
13. Christian Death – Psalm (Maggot's Lair)
14. Loon – Belly Dance feat. Gritty